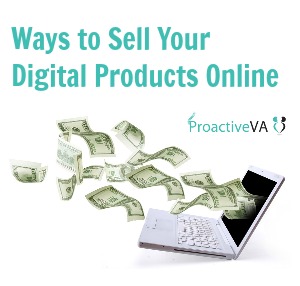 Once you create your digital products you need to get it into the hands of your target audience.  Before you start marketing your products you have to figure out how and where you will sell them.  There are several options available.
Sell on Your Website
If you already have a web presence such as a blog or web site then this might be your first choice.  If you don't have a website, they are easier than ever to set up.  Hosting companies offer space, templates and management systems so all the hard work is done behind the scenes.  Selling your product on your own site is a good option if you are creating a place for readers to view your information and learn what your business is all about. Selling products on your site can be time-consuming and difficult.  Your website probably isn't automatically set up for selling and it will take some research and extra steps.  There are several great plugins and shopping carts that you can integrate into your website to make it function as an e-commerce site.
Sell on eBay
Everyone has probably used eBay at one time or another whether it was to buy or sell something.  You can visit eBay and set up your own store with all your products to sell at auction.  A combination of auction and storefront will probably generate you the most profit.  Millions of people use eBay so there is potential for great profits.  The best part about using eBay is that they provide you will all the tools needed for promotion, collecting payment and issue resolution.  They also have a great forum where you can ask any questions you might have.
Use PayPal
PayPal is popular with people who shop online because it doesn't require them to share you credit card information with companies.  Sites that offer PayPal as an option to purchase their products typically sell more product.  You can add PayPal buttons to your website and people can easily purchase products from you.  Opening a PayPal account to conduct business is easy and also free.
Sell on Amazon
Amazon has been making it's mark in the online shopping world and is growing daily.  Creating an Amazon page and getting set up offers many advantages for your business.  It is similar to eBay as much of the hard work is done for you and you just have to enter in your product details and start selling.
Sell on ClickBank
You can sign up as a vendor to sell your products in ClickBank's marketplace.  Others who are interested in promoting your product as an affiliate can sign up to sell it.  This increases your sales as well as their commission.  The site handles the payouts, offers several payment options and teaches you how to be successful with them. Now you have a few options for selling your products.  Time to set up shop and start promoting!