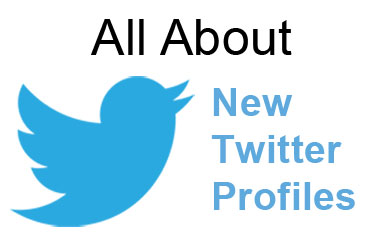 Twitter recently went through a huge overhaul, it now looks quite similar to Facebook.  We have put together a series that will explain the recommended dimensions and specifications for all the important images on the top social media platforms.  The posts will be kept up to date so they are always accurate (see last date updated at end of post).
There are two very important photos that you should have uploaded to your Twitter Profile, the header photo and profile photo.
When creating your images make sure to take into account that your profile will look different on every device.   You should test your images on the popular devices to make sure they display correctly.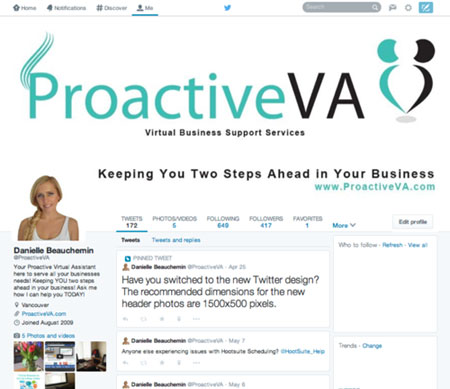 As you can see above the header photo is very large and does reach across the entire profile.  The profile photo is much larger than previously as well, so make sure to update your profile photo so that it displays correctly. 
Twitter now allows you to 'pin' any one of your tweets to the top of your profile so people will see that tweet first when they view your profile.  As you can see the first tweet in the picture above stands out.  We recommend pinning something that will be of interest to your target market. 
On the right hand side you will now so your 'About' section, it is no longer on the top in the cover photo.  Make sure to optimize the text in your about section so people know who you are, don't forget to list your website as well.
Twitter now displays the last six photos you tweeted on the left hand size as well.  We recommend always keeping a few photos in that section that are relevant to your target market.
Twitter removed backgrounds from profile pages, but you can still see it when you view a tweet in your browser, such as this one.  You will also people able to see your own background when you are on your home timeline, Notifications and Discover tabs.
Now that you have the basics of the new Twitter profile here are the dimensions to help guide you when creating your profile and cover photos.
Twitter Profile Photo Dimensions:
Recommended dimensions for Twitter profile photos are 400 x 400 pixels.  Several formats are supported, JPG, GIF, or PNG, they do not support animated GIFs.
Twitter Header Photo Dimensions:

Recommended dimensions for Twitter header photos are 1500 x 500 pixels.  Several formats are supported, JPG, GIF, or PNG, they do not support animated GIFs.
Background Photos:
Twitter backgrounds will vary depending on the device the person is viewing on.  We recommend using an image that is at least 1600 x 1200 pixels.  For optimal performance we suggest making it 2600 x 1600 pixels.  Make sure your file size is under 2 MB before you upload it to Twitter as that is their maximum file size.
We hope this helps you customize images and set up your Twitter Profile.  If you have any questions feel free to ask in the comments below.
This was last updated May 9th, 2014.
Make sure to follow us on Twitter and on Facebook for more tips! 🙂