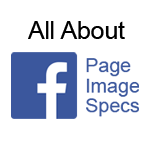 Facebook is ever-changing just like every other social media platform.  We always get asked what the recommended specifications are for Images on Facebook Pages.  We decided to put together a new series that will explain the recommended dimensions and specifications for all the important images on the top social media platforms.  We will make sure to keep these posts up to date so they will be accurate for you (see last date updated at end of post). Today we will start off with Facebook.  There are two very important photos that you should have uploaded to Facebook, Cover Photo and Profile Photo.  There are also a few other photo specifications that you might want to know when using Facebook which will be explained below.
Facebook Profile Photo Dimensions
Facebook Page profile pictures are square and display at 160 x 160 pixels.  The photo you upload must be at least 180 x 180 pixels in size.  We recommend that you upload a square image as rectangular images will be cropped to fit a square. Keep note that your Page's profile image will be displayed next to anything you do with your Page on Facebook, it will represent your Page.  Keep it simple as it is a smaller image and make sure it represents what your page is all about.
Facebook Cover Photo Dimensions:
The recommended size for a Facebook Cover Photo is 851 x 315 pixels.  If you upload an image that is smaller then the required dimensions it will be stretched to size and end up looking distorted and unprofessional.  The uploaded image but be at least 399 x 150 pixels but we highly recommend using an image that is 851 x 315 pixels. To make sure you get the fastest load times for you page upload an sRGP JPG file that is 851 x 315 pixels and less than 100 kilobytes.  If you image has a logo or text you may want to use a PNG file for higher quality. When creating your Cover Photo make sure to remember that your profile image will cover part of it.  See my example below.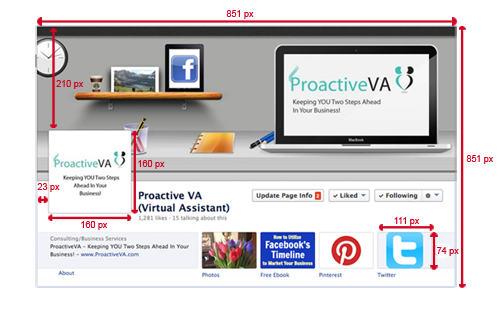 Facebook App Icon Dimensions:
If you have apps on your Facebook Page then you might want to customize the images that show up on the tabs.  The dimensions for the App Icons are 111 x 74 pixels.  It is a very small size so if you create something with text make sure that it is legible.
Facebook Event Photo Dimensions:
Facebook Events also have a Cover Photo.  We suggest making a photo that represents your event best.  Event Cover Photos must be at least 714 x 264 pixels.  Once again, Facebook will stretch out any image that is not big enough so make sure to use the correct size.
Facebook also recommends uploading your Event Cover Photo in sRGB format and keeping the file size less than 100 kilobytes.  If you upload a image bigger than 100 kilobytes it might look distorted
Facebook News Feed Photo Dimensions:
When sharing photos on Facebook's News Feed they recommend using images 1200 x 630 pixels for optimal display on high resolution devices.  You should always make sure your image is at least 600 x 315 pixels or there will be blank spaces left beside the image.  Try to keep your image as close to 1.91:1 aspect ratio to display to full image without any cropping.
  We hope this helps you customize images and set up your Facebook Page.  If you have any questions feel free to ask in the comments below. This was last updated August 25th, 2014. Make sure to like us on Facebook for more tips! 🙂