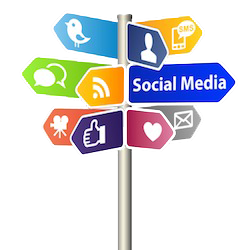 Social media marketing has become one of the most powerful tools for business owners today. It allows you to connect directly in real time with your audience. You can engage and build a loyal community around your business. Business owners can also use social media to learn more about their audience so they can meet their customers needs.
Are you ready to get started marketing on social media? Before you create your profiles and start marketing here are a few things to take into consideration.
Identify your purpose and goals.
When marketing on social media you must identify your purpose and goals. What are you hoping to accomplish? There are several different reasons to use social media. You may want to build a following to sell your products, build your list or drive traffic to your website. Are you planning to generate new leads or build relationships with your existing customers. Think about both your short-term and long-term goals.
If you are planning on building your opt-in list with social media marketing, how much do you want to achieve in three months, and what about in two years? By setting the right goals for you and your business it will help create a social media marketing strategy that is both effective and productive.
Identify your tactics to achieve your goals.
Identify your tactics, what are they? There are several different ways you can accomplish your goals. If you want to drive people to your opt-in page then you may want to hold a contest that motivates people to sign up to your list. You will want to create a content marketing strategy specifically for social media that identifies you as an authorize and promotes your opt-in offer. Once you have identified the correct tactics you can go ahead and create an action plan and timeline.
What message do you want to convey?
Make sure that your message and brand support your other branding efforts outside of social media. What message do you want your brand to convey and how do you want to communicate it?
Finally you must assess your resources and leverage the technology available to you. Identify all the tools that can help you achieve your social media marketing goals and use them. Get involved in the social media world and you will see the results.