Virtual Assistants, you can learn valuable information to help your Virtual Assistant business grow and in turn it will generate you more clients and income!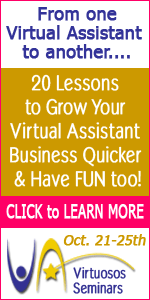 Attend an exciting workshop series of 20 educational online seminars to benefit all VAs worldwide.
Tawnya has hand chosen 20 fabulous Virtual Assistants to share their knowledge with you to help you succeed in your business!
The seminars are all online so you do not have to leave the comfort of your home office.  To busy to attend the online events?  All the seminars are recorded so you can watch them at your own leisure.
Guess who was chosen as one of the speakers for this seasons VA Virtuosos?
Me!
My topic will be all about Pinterest and how to use Pinterest to market your Virtual Assistant Business.  
Don't know what Pinterest is or not sure how to use it? No problem, come watch my seminar on Friday, October 25th and find out.
During my presentation, 'How to Use Pinterest to Market Your VA Business', learn how image marketing can quickly bring new clients knocking at your door. If you are looking to makeover your Pinterest account or start implementing image marketing into your business plan, look no further. In this class I will teach you:
How to setup your Pinterest account to get in the front eyes of your market.
Ways to strategically market your Pinterest account online.
How to make extra money over and above getting clients with your Pinterest account.
Image marketing strategies that work best for you
and much more!
Along with my presentation you will get to watch 19 other awesome webinars for a total of 20.  The series is being held from October 21st – 25th, with 4 seminars presented each day.  
If your VA business seems to be at a stand still why not kick things up a notch this month? Attend VA Virtuosos for a low price of only $37!!
You can't beat that price anywhere online that I'm aware of when it comes to furthering your education as a Virtual Assistant (not to mention having a fantastic time without even starting the car). Plus each of the speakers will give you an added FREE, yes FREE BONUS resource to download after each seminar. There will be tip sheets, eBooks, audios, special reports and more.
I definitely recommend attending VA Virtuosos, you will learn a ton of invaluable information for your VA Business.  
VAVS is always a sell out event so I recommend getting your ticket soon so you don't miss out on this great series.
Click here to reserve your seat for the low price of $37!
The year is coming to an end and is the perfect opportunity to learn more to reach your goals and get ahead in an increasingly competitive virtual business environment!
See you there,
Danielle
P.S.  Tawnya just announced that there will be a few draws for early bird PRIZES for people who sign up early!!! So make sure you sign up now for your chance to win!