I get asked the same questions about email marketing quite often so I thought I'd just write the answers in a blog post for you.
So here we go… 
Top 6 Email Marketing Questions Answered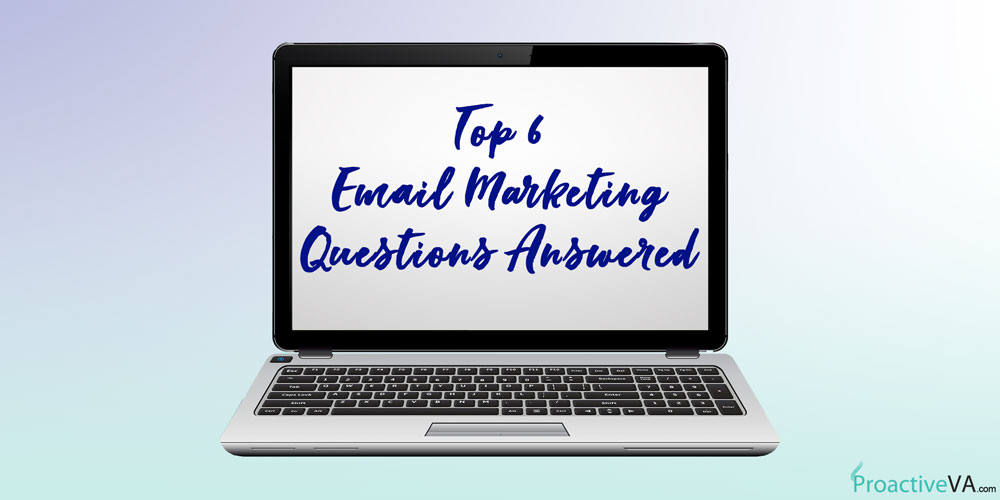 1. Why do I need a list?
First off, email marketing is one of the best ways to build relationships with your target audience.
People check their emails on a regular basis and you have the opportunity to put yourself in their inbox. You can control the flow of information and even earn income through the emails you send. Your emails can be informative with links to relevant products, and/or promotional emails which will encourage them to buy a particular product. 
As you get to know your audience and they get to know you, you will build loyalty and trust, making it even easier to earn money through your list. 
2. How do I build my list?
There are a number of ways to build your list. It used to be as simple as offering an email newsletter, but today it's a bit more complicated. Email marketing is very competitive and it's getting more difficult to get people to give you their email address. You have to get a little creative now. 
The best way to get people to give you their email address is by offering them something desirable, and of high value for free. This could be a… 
special report
checklist
template
eCourse
video series
cheatsheet
and so on…
The item will attract subscribers, but there is a chance that they will sign up, grab the item and then unsubscribe. It happens to me all the time and it will happen to you. However, if you offer an eCourse or video series then they will have to stay subscribed to get all the content and you have a better chance at keeping them as a long-term subscriber. 
Not sure what to offer your audience? Here's a free PLR report that you can use. 
3. What is an autoresponder?
An autoresponder automatically sends out email messages to your list according to the date you have set. 
For example, if you decide to offer your subscribers a video series, you would pre-load the emails with the videos into your email marketing platform and then it would deliver each email, one at a time on the days that you specify. 
Autoresponders take some time to set up, but it's worth it. Once they are set up they will keep on earning for you over and over again. Just make sure you don't put something in the autoresponders that could outdate them. 
4. How often should I email my list?
You should email them as often as you can without annoying them. If you can, email them daily or every other day. Use a content planner to schedule out your emails so your subscribers hear from you regularly. 
Not sure what you'd even email to your list? Get these done-for-you newsletters to help get you started. 
5. How do I keep people on my list?
Once they have signed up to your list you have the chance to build a relationship with them by sending out kickass content. 
Email them useful information that they will like and will be willing to share with others by forwarding your emails to their friends and colleagues. Write subject lines that will encourage them to open your emails and continue being a subscriber. 
6. How can I avoid being labeled as spam?
It can't be avoided completely but there are a few ways to help your emails reach your subscriber's inbox rather than their spam folder. First off, when they subscribe to you, ask them to whitelist your email address. People won't always do that so that isn't foolproof, but worth asking.
You can also use plain text emails, limit links and avoid words like FREE or strange punctuation in your subject lines. 
Well, I hope this answered your questions about email marketing. If I didn't answer your question, ask me in the comments below and I'll try to answer it the best I can.
Don't forget to pick up my friend Alice's "Marketing Ready-to-Go Newsletters" with private label rights. It includes 4 complete ready-to-publish newsletters. It's only available for a short time to grab it while you can.