I've helped run several virtual events, my favourite one to help host twice every year is VAvirtuosos. I've learned quite a bit over the years assisting with virtual events. That's how I came up with these key ingredients to help you earn more income with each virtual event you host.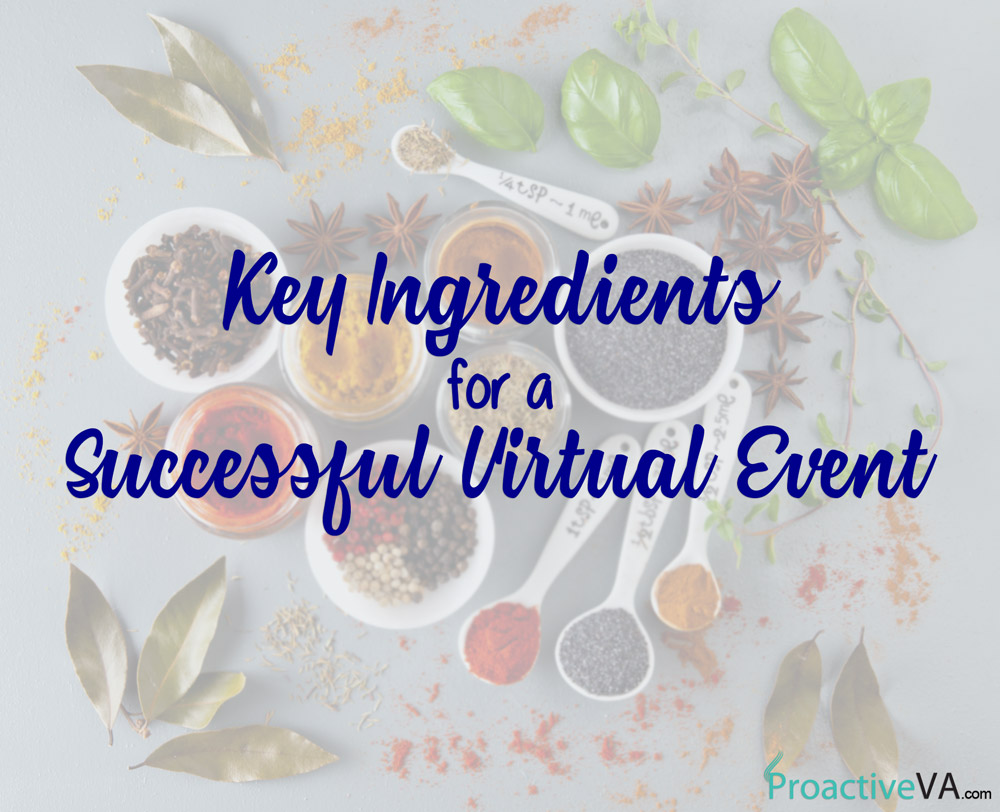 Key Ingredients for a Successful Virtual Event
Set a Clear Goal 
Why do you want to host a virtual event?
Whenever you're thinking of creating a virtual event, set your goal for it first in order to focus your efforts clearly. Some examples of goals are…
Increase in sales
More subscribers
Build credibility
Brand reach
Set a CLEAR Goal for Your Attendees
What would you like your attendees to get out of the live event? Why would they want to attend your event? Create a list and write down all the details
What will they learn?
Why would they want to attend?
What is their problem and how can you fix it?
What will they be able to take away and implement right away?
What makes your event different than your competitors?
What product will you upsell them during the event?
What bonus items would they enjoy that you could give to them to get them to sign up right away?
What free gift would you like to give away as a surprise thank you for everyone who attends live? 
Tip Top Organization
Once you've figured out what your goals are and what exactly your audience needs, it's time to decide on the format of your live event. In most cases, it will be a webinar. You might also decide on a panel or a summit with lots of speakers live over the course of a few days. Figure out what would best serve your audience.
You need to decide if your event will be free or paid.
Will you record the event? And if so, will the attendees get access to the recording? How will you deliver that? 
If you have several speakers you will have to coordinate and get all their bios and websites and so on to introduce them on the live event. Don't forget to get their cell phone number incase there is a tech issue.
What software will you use? Zoom? GoToWebinar? AdobeConnect? There's so many options out there. You'll have to decide on one. 
Plus you still have to set up all the reminder emails and also be on standby to answer any questions about getting into the room during the event. 
And that's only some of the things you need to organize. 
A Virtual Assistant
Not sure if you noticed, but a lot goes on in the background of live events. There's quite a few moving parts. Even if you are a technical, organized person it will still be hard to handle a live event all on your own. 
That's where a Virtual Assistant comes in. Find the right one and they can set up the entire event for you. They can even join you on the webinar and help introduce people or moderate the chat etc. 
Marketing Your Event
Once you have the basics nailed down, you can start marketing the event. There are several important components to this. Here's some to consider…
The landing page (sales pages) for the event and all the details about it. 
The sign up form for them to attend
The thank you page for after they sign up
An email (or several) to your list with all the details on how to join the event
Posts on all your social networks 
If you have an affiliate program you'd want to set it up so your affiliates can promote your event
A Well-Rehearsed Presentation
Create your presentation and practice it until you can deliver it smoothly. Practice as if you were going to present it to your audience. Set up your microphone and hop on your webcam (if you are going on camera). Do a run-through at least once using the actual software you have chosen. If you are new to the software, I'd suggest practicing a few times to work out any kinks. If you aren't a camera person, use a PowerPoint for most of your presentation, or all of it. But live, on camera webinars are taking over the market so you might want to get comfortable on camera.
Well Presented Offer
Depending on your original goal for hosting the virtual event, you might have an upsell. If you are going to offer something to the people who attended you have to make it so irresistible that they'd be crazy not to buy it. 
Live events have become one of the most popular ways to grow one's business. Unfortunately, they are not always used effectively. Knowing what to do will help you host a successful live event. 
Do you need help setting up your next virtual event? Contact me today.