Do you ever get so busy that you can't even find time to make a grocery list, let alone get to the grocery store to buy groceries for dinner? 
I like to plan out my meals in advance and there are weeks where I can't even find the time to plan them out. On top of that, I have to drive to the grocery store which is 20 minutes away and then pick out all the ingredients. 95% of the time I have to go to 2 or 3 stores because I can't find all of my ingredients at just one store. By the time I get home and put everything away I've used up at least 4 hours of my day.
I've seen ads for meal delivery services and they've always intrigued me. The main reason I never signed up to them is because the cost seems more than what I'd spend if I picked up the ingredients myself. I received a coupon for $40 off Hello Fresh in the mail so decided to sign up. Get $40 off your first box too here.
I signed up to the "Classic Plan" for two people, three days a week. The original price for this plan is $59.94. The Classic Plan has the largest variety of recipes with meat, fish, produce and grains. 
They have three plan types
Classic Plan – For people who want a variety of meat, fish, produce and grains,
Veggie Plan – For Vegetarians
Family Plan – Family-friendly ingredients to please both adults and children.
The price includes all the ingredients to make the meals plus shipping. All you really need to have at home is salt, pepper, butter and/or oil. They include everything else you may need. 
Once I signed up I selected 3 meals that I wanted in my box. There were only 6 options total which isn't a lot to select from. At the time of writing there isn't any way to filter out dietary restrictions or ingredients you don't enjoy or are allergic to. 
The options available to me for the first delivery were…
Beefed-Up Bolognese
Sticky Honey Drumsticks
Cranberry Turkey Burgers
Zucchini Flatbreads
Crispy Sole
Spanish One-Pan Chicken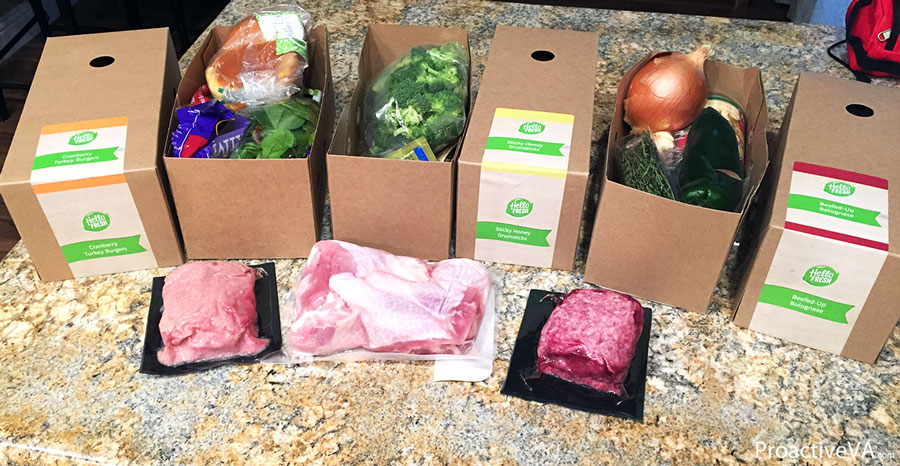 I selected the first three on the list above. I wanted to try the Zucchini flatbreads but one of the main items in the dish were olives and I can't stand them.
My first delivery arrived the following Tuesday (I selected Tuesday as my delivery date) via UPS. It arrived in a large, sturdy box. Each meal was inside it's own individual box inside the large box, the box had two large ice packs inside to keep it fresh. The meat was between the ice packs and the bottom of the box. Make sure to look for it as you might not notice right away and forget to put it in the fridge, or throw it away. 
You can decide to put the individual boxes in your fridge as is or organize them in your fridge, I just left it as is so everything was easy to grab while cooking. The whole point of me using Hello Fresh is to save time. 
Each order comes with a recipe book for all the recipes, including the ones you didn't get in your box. So you can save the recipe cards and make the meals another time. 
All the ingredients are portioned out so there is little food waste. I still found that we had leftovers for every meal. Maybe we just aren't big eaters? I felt that there was quite a bit of garbage waste from everything being packaged individually. Maybe they will cut down on waste in the future by getting creative with packaging. 
The meals were very easy to prepare and cook, the directions are clear with coloured illustrations. Just about anyone could cook up these meals.
What Did I Think of the Meals?
Beefed-Up Bolognese
I cooked this meal first because I'm a pasta junkie. The Beefed-Up Bolognese was very simple and quick to make. It was basically a one-pan meal, besides boiling the pasta. This meal tasted good, but wasn't the best thing I've eaten. My boyfriend didn't really enjoy it, but he isn't a fan of pasta. I always know when he isn't a fan because he doesn't go back for seconds. We ended up having leftovers and the next day I added some more sour cream, tomatoes and cheese; it tasted much better. I would probably make this again myself but spruce it up a bit as it was a little bland. Sorry, I forgot to take a picture of the final product…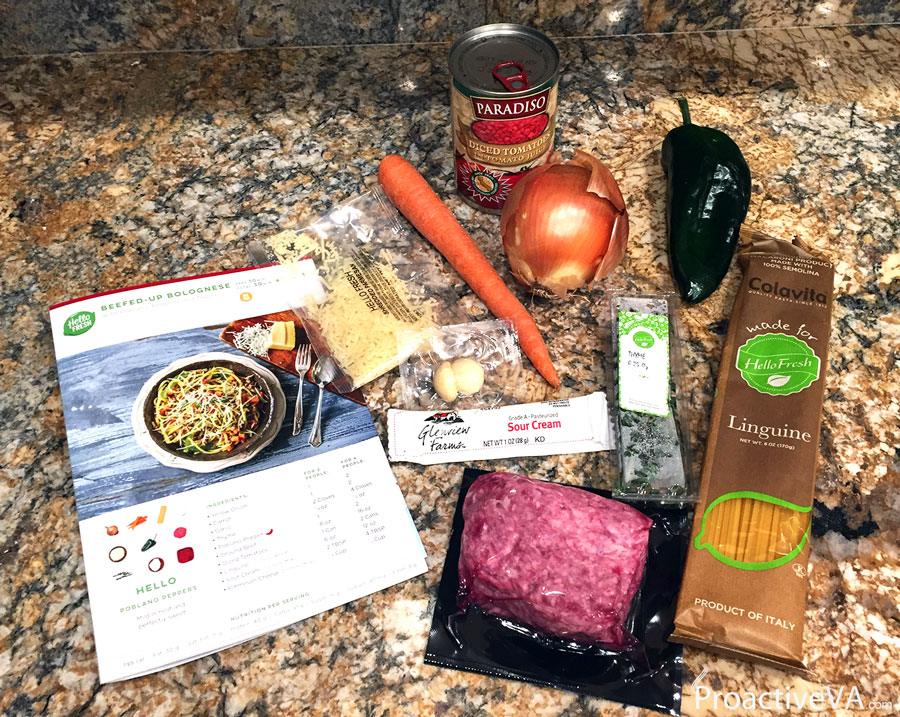 Sticky Honey Drumsticks
I'm not a big chicken fan but wanted to try these. This meal was also easy to prepare and didn't take too long. The drumsticks turned out good and I would use the sauce recipe again. The broccoli was fairly bland as it was just steamed broccoli, I typically add seasonings to my vegetables, but cooked everything to their directions to see how everything tasted. We had leftovers with this meal also, which ended up in the trash.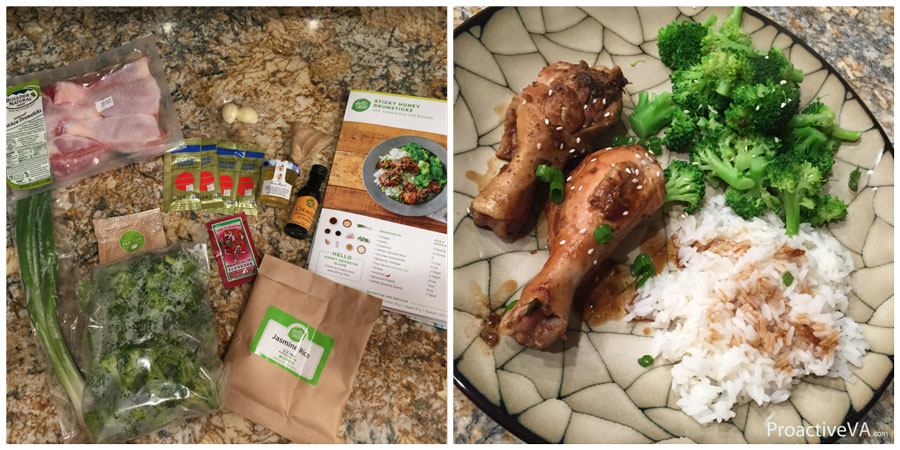 Cranberry Turkey Burgers
Can you believe that I've never had a turkey burger? I actually liked the turkey burgers the best out of the three meals. They were really easy to make and I will use the recipe again. The only things I would change are… I'd use less sage in the burger mix and also make more of the special cranberry sauce for the burgers. I didn't feel that they provided me with enough of the cranberry/mayo mix. Plus I'd cook them on the BBQ instead of in a frying pan. I should mention that the salad mix was expired when I went to use it. It actually expired on the day of my delivery. I had no idea or I would have made this meal first. I was disappointed by that as the name is "Hello Fresh", I never did reach out the company, it slipped my mind until now.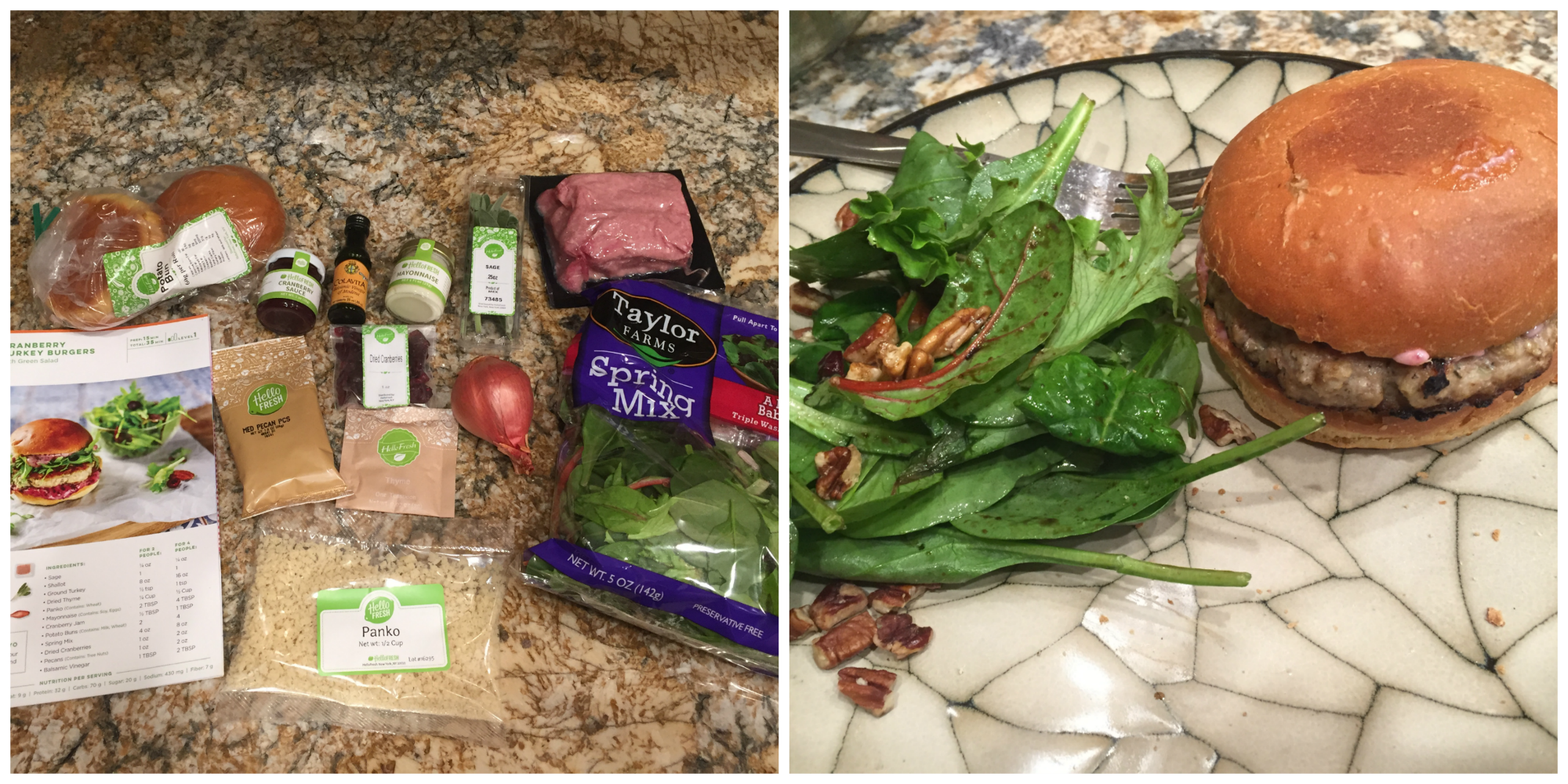 Overall Hello Fresh is great for anyone who is busy and doesn't have time to plan out their meals and go shopping. You can pause weeks as often as you want. I have mine paused right now as we have been busy going places so don't want to waste any of the meals. When you pause a week you won't be charged and your membership stays active. You can cancel your entire membership if you wish, it's easy to do so.
Time is money and Hello Fresh saves me time so I can focus on my business and bring in income.
Click To Tweet
I'd like to see Hello Fresh use organic ingredients as I've been trying to eat organic as much as possible. I'd be willing to pay more for an organic box. 
If you sign up to Hello Fresh with my link you can get $40 off your first box.
Have you ever used a meal delivery service? What is/was your experience like?