It's easy to get used to the website we have. It seems to work for us, and time passes by so quickly… But technology changes extremely fast and you should do a website audit at least once a year to ensure that it's providing everything it can to your audience.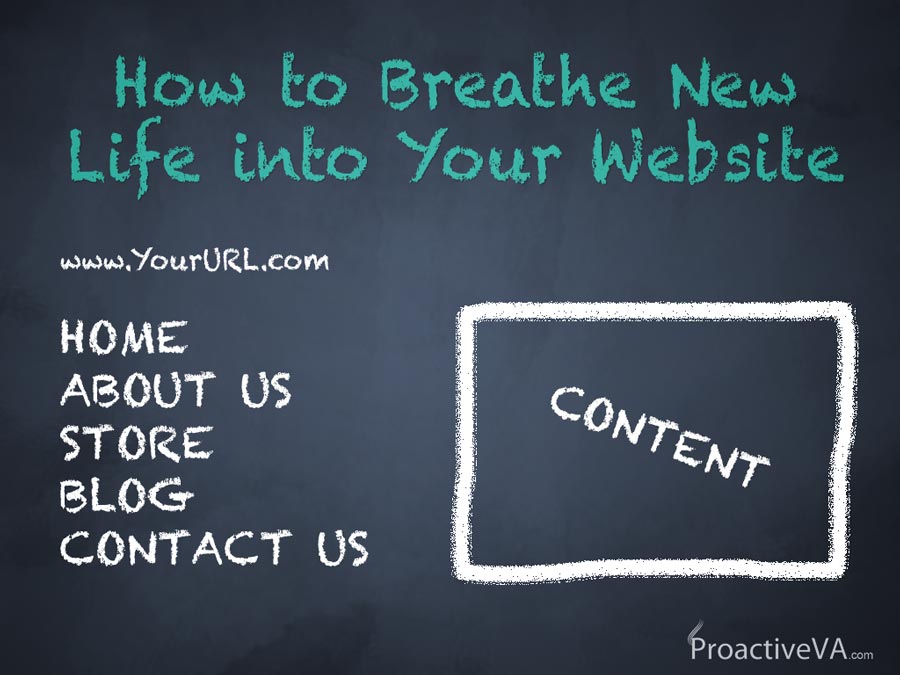 Make What You Do Obvious
When people look at your home page, can they figure out at a glance what you do? If not, then you need to update your home page to reflect what you do, so that there is no guessing involved. Don't make them click to your about page to figure out what you do. They won't do it and they'll leave your website.
Perform a Content Audit
Take a look at all the content you're offering. Does it educate about a problem, solve a problem, or something else? In some cases, you may find content on your website that isn't even relevant anymore because the links are dead, or maybe you recommended a product that is no longer available. 
Add Video to Your Website
The key to video is to make it short, let the audience turn it on and off, and put it right up front. Be very specific in the video about what you're talking about, and then put what is said in text on the page under the video for those who would rather read than watch. Make sure to upload your video to YouTube as well. 
Add Your Mission Statement
One way that can really make your website stand out to your audience is by including your customer-focused mission statement right up front. A mission statement tells your customer what you do, who you do it for, and why you do it. It should be focused 100 percent on the customer.
Reorganize Your Navigation
Take a look at a map of your website using Google Analytics to find out what your audience does when they visit your site. How do they use the navigation? What could be changed to make it easier for them? 
Add Related Content to Your Other Content
 A great plugin to get if you have a WordPress website is a related posts plugin. This enables your blog to recommend other content right after the content they've read which is in the same category. 
Add Call to Actions
Each piece of content on your website should be followed up with some sort of call to action. People want to know what to do next, so tell them what to do next. If you haven't been doing that, you can go back and fix any content to include a CTA.
Change Your Colours
You want your CTAs and other aspects of your site to stand out, so reconsider your use of color. Remember to make CTAs a contrasting color. Look on a color wheel and pick what's directly across from it for best results. It's important to make sure that any buttons and/or links that you want people to click on are obvious and stand out.
Update Your Theme and Plugins
Any type of tech that you use for your website in front of and behind the scenes should be checked periodically for updates. If you paid someone to create your website and do not have access to the theme or security or updates, you may need to hire a web designer to help you with that. All technology should get updated to its most recent version as soon as they are available. Otherwise, you could open up your site to hackers.
Update Lead Magnets
Review anything you offer as a freebie. Are your lead magnets still relevant? For example, what if you created a freebie about using Vine? That is not going to work now as it no longer exists. You'll need to replace it with something relevant. 
Taking time out at the beginning of the year to ensure that your website is ready for your visitors is imperative if you want to stay in business for the long term. If you are anything like me, your website is always under construction as you always have new ideas. 
Need assistance updating your website for the new year? Contact me today!