*This post may contain affiliate links for which we may earn a commission. Please read our disclosure for more information.
Do you push yourself to be all that you can be? In your drive for excellence, you may take on so many projects that life often seems chaotic. In the midst of doing it all, do you remember to take time to exercise?
Exercise enables you to feel rested, calm and stress-free. If you neglect it you're more likely to become depressed, stressed, or unhappy.
Perhaps you feel that there's just not enough time for exercise. Somewhere in the mix, you lost any time you ever had for yourself. However, the good news is that it's easier than ever to get in a heart-pumping workout in less than 30 minutes.
Exercising for hours upon hours every week is NOT a requirement. And, although many people go to a gym to exercise for X amount of hours each time, lengthy exercise programs are not required in order to be successful with fitness.
More and more fitness professionals are creating programs designed specifically for those of us who lead a busy life and don't think we have time to workout. (Who doesn't need a few more hours in their day? I sure could use some.)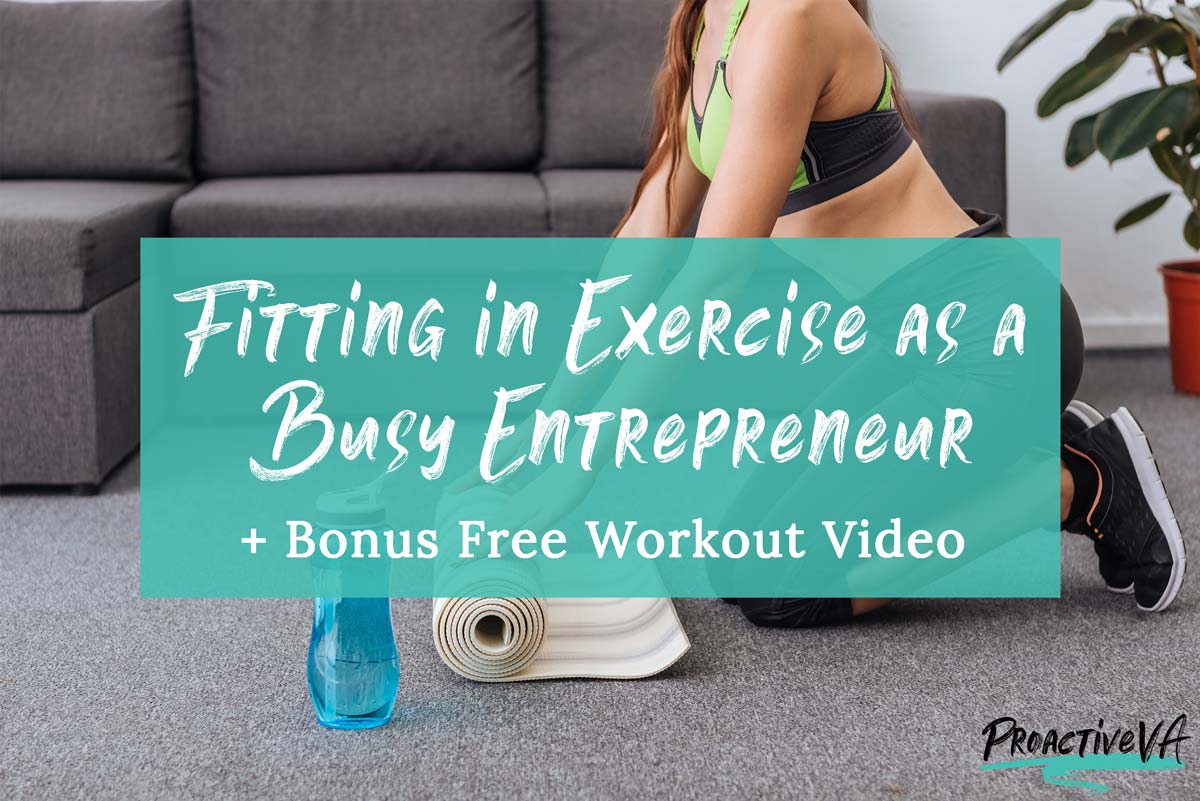 One such program that works great for those of us who think we can't fit exercise into our day is my trainer Abby's Trainer in Your Back Pocket Workouts.
You can do Abby's workouts in as little as 15-30 minutes. The workouts are fast and fun!
Try a free sample video workout here.
I used to train with Abby in person when I lived near her. But now that I can't train with her in person I'm enrolled in her awesome Trainer in Your Back Pocket Program.
Here is what's included in the TBP Program:
Monthly Workout Plans (new upper body, lower body, core, cardio, HIIT, and total body workouts each month). Includes both the at home and at gym options.

MyZone Fitness Tracker

 (a $150 value!)
Two Exercise Mini-Bands (medium strength & heavy strength)
Live video workouts on Zoom
Monthly team coaching calls with Abby.
Private Facebook Group
Monthly Nutrition Lesson
Monthly Wellness Practice
Workout Video Archive with over 300 workout videos to choose from!
Travel-Fit-Kit with over 30 Travel Workouts
42 Days to Fit & Feeling Good
5 Weeks to 5k Virtual Running Clinic & Training Schedules
TBP Nutrition University (an entire year's worth of nutrition lessons and challenges to kickstart your nutrition journey!)
Fun Bonus Challenges like:

New Year, New Rear
Awesome Abs April
Amazing Arms August
HIIT for the Holidays

Quarterly Fitness Assessments
Bonus Bodyweight/Travel and Beginner Workout Plans
Nutrition Resources & Meal Plans
Pregnancy Safe Workout Videos
Annual Well-Weekend Adventure Retreats (additional fee)
And so much more!
My favorite part of the program are the bonus challenges that she holds throughout the year. Typically they are month-long challenges in which she sends you a new workout each day. The goal is to complete each workout throughout the month, you get to rest on the weekends or catch up on any that you miss.
I also like the MyZone Fitness Tracker that is included so that I can compete with other members in the TBP program and keep track of my workouts. The belt also helps motivate me as you collect points based on your effort.
Abby's program is great for anyone who works from home or is busy and on the go. Her workouts are very flexible and you can do them at home or at the gym. She is always available to answer any questions members might have about fitness or nutrition.
Take 20 minutes and get your heart rate up by completing Abby's free video workout, access it here.
Once you learn to make time for exercise, you'll have more energy and time to enjoy the good things life has to offer. So go on, get moving!
If you have any questions about her Trainer in Your Back Pocket Program, feel free to ask me in the comments below. I've been a member for over 2 years.