Are you a Virtual Assistant or interested in starting up your own service-based business?
Then you MUST attend VAvirtuosos. 
I can't wait for the event to kick off on November 5th! 
What is VAvirtuosos?
An exciting virtual workshop series of 20 educational online seminars to benefit all Virtual Assistants worldwide. These webinars will be presented, over the course of 5 days (November 5th-9th), by fellow VAs who have been there, done that. This will be the 17th time this series has been put on. Can you believe that?
Why Attend VAvirtuosos?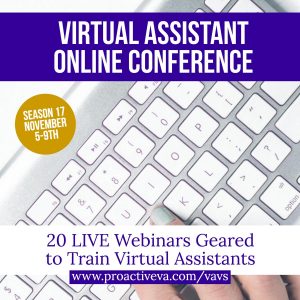 VAvirtuosos is the most affordable training conference I've come across. You attend virtually so you don't have to fly anywhere, book a hotel and pay for all the expenses of a typical conference. All you have to do is purchase your online ticket for the low price of $37.
$37 for all webinars! Each webinar is typically an hour long which means you get about 20 hours of training for only $37. That's only $1.85 an hour! I wouldn't work for $1.85 per hour but I'd definitely pay $1.85 per hour for training.
Attending VAvirutosos, in my opinion, is one of the best investments you can make for your VA business. You can't buy much anymore for $37. But you can attend VAvirtuosos.
I attend every year and actually help organize and run the event. Even if I wasn't helping, I would still attend. A few seasons back I actually gained a client from being at the event. 
 You never know what can happen at conferences, even virtual ones.
Attending VAvirtuosos is a must in my books!
If you are serious about your Virtual Assistant Business then you should attend VAvirtuosos every season. You'll leave with so much information that you won't know what to do with it all. Tawnya Sutherland (the host) records all the webinars and the recordings are available so you can refer back to them later or watch the ones you missed.
Tawnya also lined up heaps of fabulous prizes for attendees. Currently, there's over $10,000 in prizes to be won. The earlier you sign up the more chances you have to win prizes. So quick, go sign up now!
VAvirtuosos isn't all work, there's time for fun too. In between each webinar you can chat with other attendees, network, build friendships and make business connections. I've met so many lovely people at #VAVS and can't wait to meet even more this November.
Make sure you grab your seat before it sells out. And if you sign up early you have a chance of winning some of the early bird prizes. 
Not ready to sign up? Get a FREE draw ticket here. 
When's the last time you found 20 hours of training for only $37?
If you are a fellow VA, I want to "see" you at VAvirtuosos! Let me know if you sign up in the comments below. 
Not a VA?
Then I'm sure you have a Virtual Assistant working for you. Why not invest in your Virtual Assistant and send them to VAvirtuosos? They will thank you and so will your business. I know that if I had my own VA, I'd send them to this training because ultimately it would increase their knowledge and help my business. 
Let me know which webinar you are most excited about in the comments below.
P.S. Here's the speaker lineup for the event!
Day 1
Getting Clients: Find, Fetch & Followup with Tawnya Sutherland
Rock Your Content and Get Clients! with Alicia Jay
Why Professional Development is the Best Way to Boost your Bottom Line with Kathy Colaiacovo (IVAA)
Take the Hustle Out of Finding Clients: Learn the Simpler Way to Find the Right Clients with Tammy Lorette
Day 2
Surviving Your First Year: How to Make the Leap and Land on Your Feet with Lyssah Fry
From Launch to Fully Booked in 12 Weeks with Kimberly Sloan
How to Get High-Quality Clients (and Save Tons of Time) with Done-for-You Content with Nicole Dean
The Tough Client Tango: Working with Difficult Clients with Cathy Baillargeon
Day 3
Getting Started with Email Marketing with MailChimp with Terri Tutich
Grow Your List With Bundles with Angela Wills
Work Less, Make More: How to Create REAL Freedom in Your VA Business with Kristin Molenaar
WordPress Workflows: How to Quickly Set Up Your Website with Kathie Thomas
Day 4
How to Use LinkedIn to Grow Your Virtual Assistant Business with Alyssa Avant
How to Stop Charging Too Little and Start Getting Paid What You Deserve with Reese Ben-Yaacov
How to Get a Steady Flow of Clients & Passive Income From Your Blog with Karon Thackston
How To Go From Low-Valued Admin to High-Valued Expert (and Make More Money) with Kathy Goughenour
Day 5
What Is a Brand Identity and How to Build It Using Canva with Michela Luoni
What Exactly Do You Do? Craft Your Anti-Elevator Pitch And Get More Clients! with Tracey D'Aviero
Your 6-Figure Follow-Up Plan – How to Fill Your Calendar With Clients and Projects You Love with Cindy Bidar
Bring Balance Back Into Your Virtual Assistant Business – 5 Tips to Keep You Grounded with Anita Kilkenny
"See" you there! Grab your ticket here.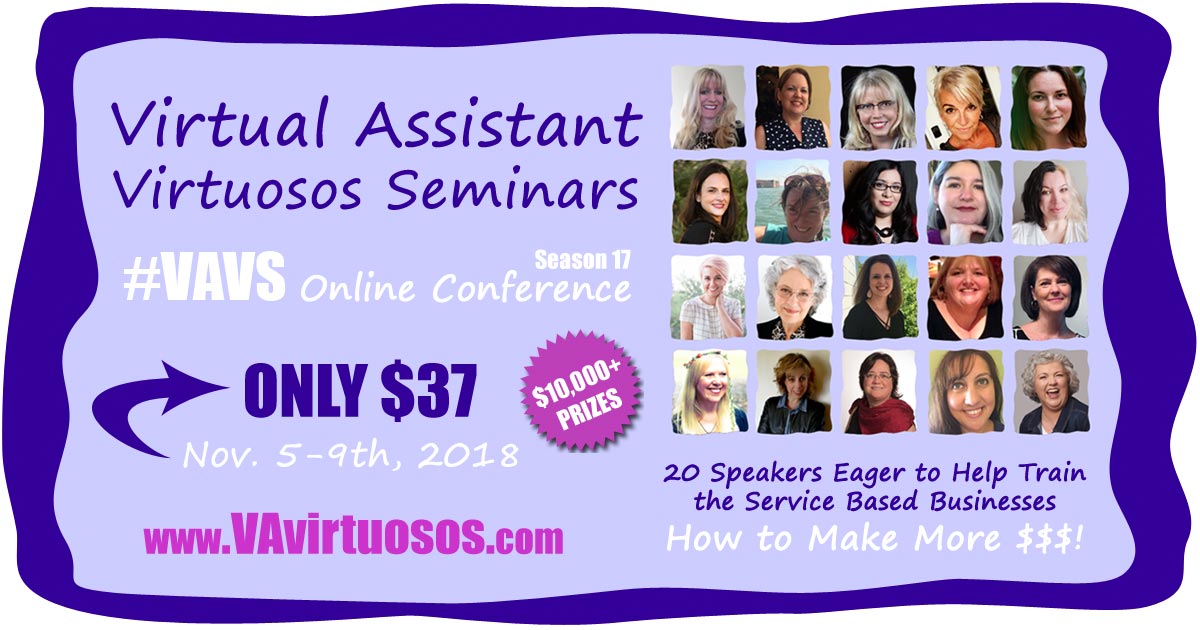 *affiliate links were used in this post, if you'd like to purchase without using my affiliate link please go to www.VAvirtuosos.com