Letting go of these social media marketing habits will turn around your marketing messages for the better. 
Being Inconsistent 
This is the FIRST thing that you need to change now. If you post a lot of somedays and then stay quiet for a week or two, you are being very inconsistent and wasting your time. If you aren't going to be consistent you might as well might as well just stop altogether. Use scheduling programs such as Hootsuite to schedule posts in advance to save time.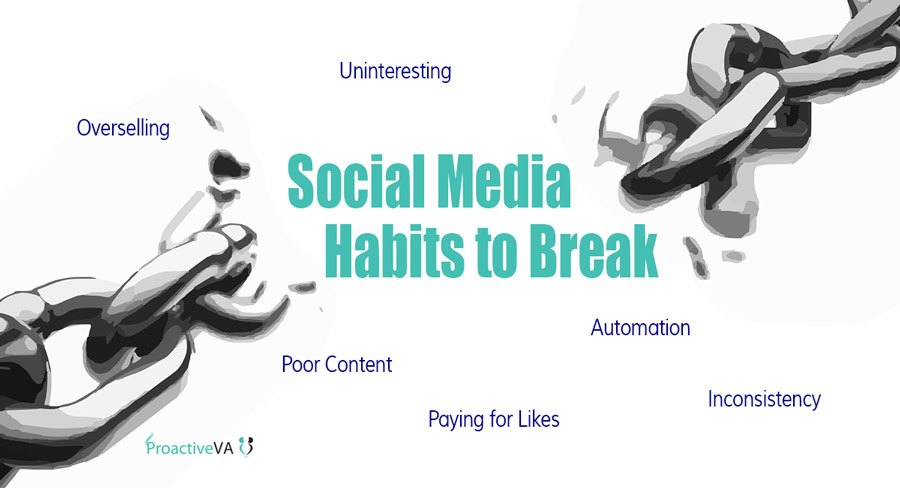 Posting Poor Content
If your content has no purpose for being posted to further your brand, provide value or cause engagement, then there is no point in posting it. Plan your content in advance to ensure that it fits in with the rest of your marketing plans. Having problems planning out your content? Use this Social Media Planner Template.
Overselling
Not providing value in your social media messages is a HUGE mistake. You do want to have a CTA in your messages, but you still want the message to provide value on it's own to your audience. Don't just post links to your products and services all day, everyday or you will drive people away.
Being Uninteresting
Find your voice so your updates have some sort of personality. Being uninteresting and boring is going to be the death of your social media presence. Let your personality shine!
Full Automation
Sure we have to automate some of our social media because who has time to do everything in real-time? But it's important to also go interact with people live. Ask questions, respond back etc. Set aside 15-30 minutes each day to do so. 
Paying for Likes or Followers
Hopefully you aren't doing this, and if you did then you already stopped. The real point of social media is engagement and you can't engage with fake users. It's a waste of your money and also against TOS. 
Now it's time to move on, let go of all of these bad habits starting now.