Which social media sites to use most is a huge question among most small business owners. There really is no 'top three' for every single business. Which one you use has to do with the type of business you have, and where your target audience hangs out. But, there are three social media sites that any business can use.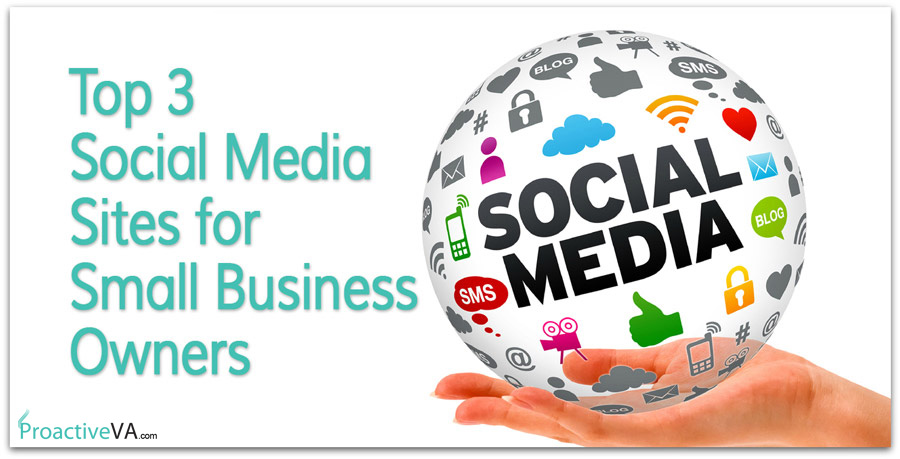 Top 3 social media sites that any small business can benefit from…
Twitter
Twitter is the top social media site that you need to be using, no matter what type of business you have. Twitter is a universal social media site. Any sized business can benefit from being active on Twitter. 
The best thing to do to get started is to create your profile and then join in on conversations that are related to your niche. You want to interact directly with your customers, leads, prospects, and brands that might be your competition. You can use #hashtags to find and share relevant content.
Twitter is the type of platform where you want to post or comment on something several times in a day. You can use a tool like Hootsuite to help you schedule posts, but you will still need to get online to respond, retweet, and engage with people on Twitter. If you are not part of the Twitter conversation that is surrounding your niche, then you're missing out on a great opportunity.
Follow ProactiveVA on Twitter for daily tips and tricks for your small business
Facebook
Facebook is another social network that literally everyone can use, no matter the niche. If you can't find your audience on Facebook then it probably doesn't exist. You can share all types of content on Facebook; images, videos, links and text.
You don't want to share or post too often on Facebook unless you're in an active conversation. They say that posting business-related information more than twice a day is considered obnoxious on Facebook.
You can use software like Hootsuite to help, but Facebook has their own power editor that lets you schedule posts for business pages. It's very useful and easy to use. Facebook also has wonderful community-building tools that you won't find on other social networks. 
YouTube
YouTube might seem like it's only for visually pleasing niches, but the truth is you can use it for just about any niche. If you have something you want to teach others, you can use it. If you want to use it to interview people, you can do that too. 
You don't have to post daily to get YouTube to work for you. Post at least weekly for the best results, although posting more often up to daily is always better. Make sure you are consistent when posting onto YouTube as people will often look forward to your videos. Not only can you build an audience on YouTube, you can also earn extra income through the views and linking back to your website.
YouTube is a great way to show off your knowledge and expertise. If you really want to be known in your industry, YouTube is for you. It works great for all sorts of niches to help people build up their expertise status.
Subscribe to ProactiveVA on YouTube.
Twitter, Facebook, and YouTube are awesome and you should be using them. But, there are others like Instagram, and Snapchat great for visually pleasing brands and are very promising for many different types of businesses.
The best thing to do is to be wherever your audience is.
Not enough time in the day to manage all your social networks? ProactiveVA can help. 🙂