Building an email list is crucial to the survival and growth of your business. It doesn't matter what type of business you have; email marketing is the most effective form of marketing and should never be ignored.
Here are 7 ways that you can build your email list.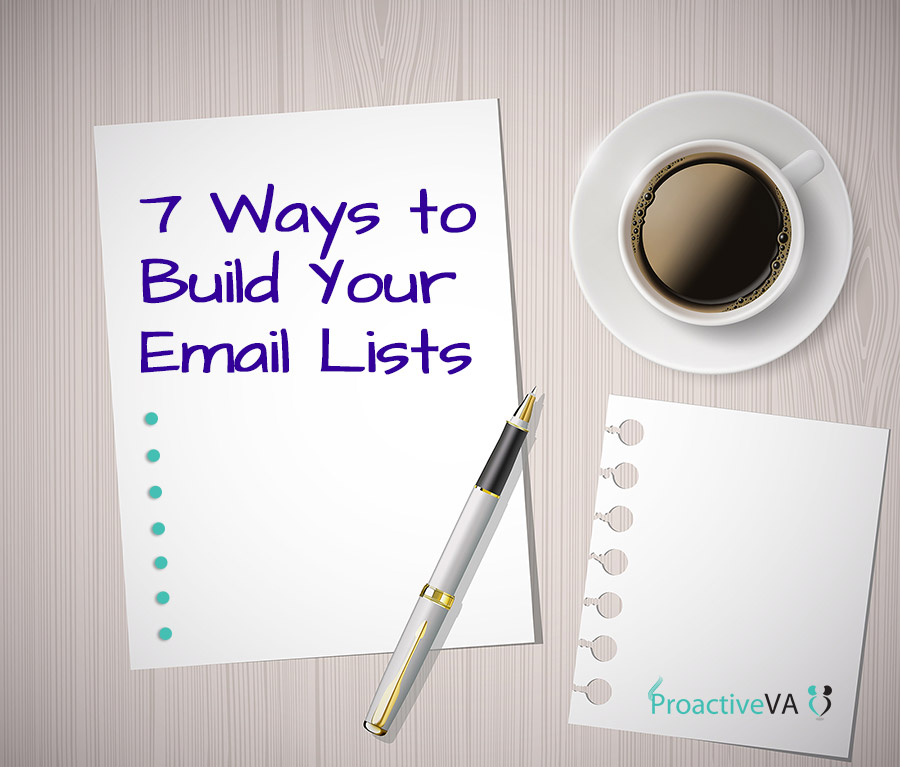 1. Create Value Filled Content
While your subscribers won't see the content until they subscribe and open the email, the content needs to be very well written, engaging, and relevant to your target audience. You want them to love it so much that they keep opening your emails and so that they share your emails with their friends and colleagues.
2. Create Segmented Email Lists
The more focused each email list is, the more relevant the messages can be for the subscribers. By segmenting your lists when people make a purchase or click through to answer a call to action, you can make each email much more personal and customized.
3. Create a Sign-Up Form on Facebook 
Facebook is a great place to add an email sign-up form. You can easily create a CTA on Facebook, and people who follow you on Facebook will likely want the information you have in your emails.
4. Create YouTube Videos
YouTube videos are a great way to attract more visitors. They have tons of viewers who search for things daily, so create short videos directed toward your target audience.
5. Conduct Interviews
Find people who need to interview experts in your niche and pitch yourself as a guest interviewee. Most of the time when you are a guest you are expected to bring an offer with you to their audience. This offer can be on a squeeze page that requires an email address to receive it.
6. Find Joint Venture Partners
Partner up with others to do a group webinar, or host another type of event such as a live event. When each person promotes to their own lists, it helps builds everyones list.
7. Speak Offline
Host or become a speaker at offline events in your industry. This works especially well if you do have a physical product to show to people. If you have a good talk, you will get tons of people signing up for your list. Make sure you offer them something free to entice them to sign up to your list. 
By using the above methods you will build your email list in no time. You should try out all of the mentioned methods (not all at one time) over the course of your business to help build your email lists. Never stop building your email list. The bigger your list and the more targeted it is, the more successful you will be. 
Want to jump start your email marketing?
Join my FREE 30 Day Email Marketing Challenge.
For the next 30 days, this challenge will ensure you are working on growing your list and selling more. It includes the most practical, interactive and result-focused opportunity possible so that you can ensure your mailing lists are the most powerful asset that your business owns.  
Learn more and join the challenge here. 
What strategies have you been using to build your email list? 
You may also be interested in reading… 
7 more ways to build your email list.