Back by popular demand this November…
The VAvirtuosos Training Seminars Series!
I can't wait for it to start! Will you be attending? If you haven't heard of VAvirtuosos before then you have been living under a rock…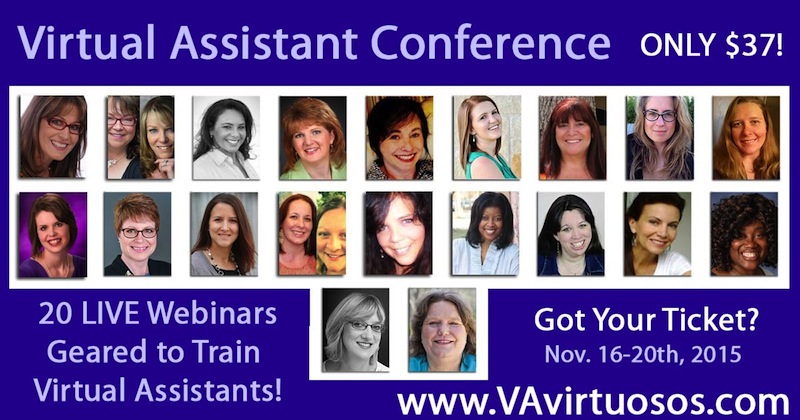 What is VAvirtuosos?
Tawnya Sutherland (my Mom), a leader in the Virtual Assistant world, has rounded up the brightest and the best in the VA industry. These experts have committed to sharing with you real world tools and examples of how they themselves are maintaining and growing a successful VA practice.
An exciting virtual workshop series of 20 educational online seminars to benefit all Virtual Assistants worldwide. These seminars will be presented, over the course of 5 days (November 16th-20th), by fellow Virtual Assistants who have been there, done that, and want to share all that (and more) with you!
Why Attend VAvirtuosos?
VAvirtuosos is the most affordable training conference I've ever come across. You attend virtually so you don't have to fly anywhere, get a hotel and pay for all the expenses of a typical conference. No added expenses what so ever. All you have to do is purchase a ticket for only $37.
What? $37 per webinar? NO! $37 for all 20 webinars! Each webinar is typically an hour long which means you get 20 hours of training for only $37. That's only $1.85 an hour! I wouldn't work for $1.85 per hour but I'd definitely pay $1.85 per hour for expert training.
VAvirutosos is the best investment you can make for your VA business. I don't even like to call it an investment because it's so inexpensive at only $37. You can't buy much anymore for $37. But you can attend VAvirtuosos for just $37!
I attend every year and actually help organize the event. Even if I wasn't helping, I would still attend. I even gained a client out of it a few years ago. 🙂 You never know what could happen at conferences, even virtual ones.
VAvirtuosos is a must in my books!
If you are serious about your Virtual Assistant Business then you should be attending VAvirtuosos. You'll leave with so much information that you won't know what to do with it all. Luckily Tawnya also offers the recordings for the series so you can refer back to them later. Or even watch the ones you missed.
Tawnya also gives away heaps of fabulous prizes to people that sign up for the conference and the earlier you sign up the more chances you have to win prizes. So quick, go sign up now!
VAvirtuosos isn't all work, there's play time too. In between each webinar you can chat with other attendees, network, build friendships and make business connections. I've met so many lovely people at VAVS and can't wait to meet even more this November.
Make sure you grab your seat before it sells out. And don't forget, when you sign up early you have a greater chance of winning prizes.
When's the last time you found 20 hours of training for only $37?
If you are a fellow VA, I want to see you at VAvirtuosos! Let me know if you signed up in the comments below. 🙂
Not a VA?
Then I'm sure you have a VA. Why not invest in your Virtual Assistant and send them to VAvirtuosos? They will thank you and so will your business. I know that if I had my own VA (future goal) I'd send them to this training because ultimately it would increase their knowledge and help my business. 
P.S.  If you sign up using my affiliate link, I'll give you a free copy of my Social Media Planner ($15 value) 🙂
*affiliate links were used in this post, if you'd like to purchase without using my affiliate link please go to www.VAvirtuosos.com
Let me know which seminar you are most excited about in the comments below.