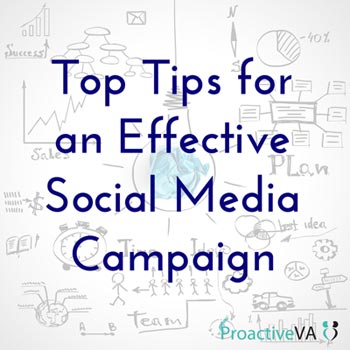 Using social media to promote your business or blog will only be effective with organization and strategy. Inconsistent, short-term approaches are ineffective and use up valuable time. In order for your social media campaign to make an impact you will need to implement some long-term, concrete goals.
Here are a few tips for running a highly, successful social media campaign for your business.
Set short-term and long-term goals
What exactly do you want to accomplish with your social media marketing? Each social network is different and can help you achieve a variety of goals. It's very important to identify both your short-term and long-term goals before you start diving into social media.
When you create and set your goals, make sure they are measurable in terms of the return on your investment. Social media campaigns aren't about how many people like your Facebook Page. They should involve metrics around building your business. Such as the number of people who visit your site from your Facebook Page and purchase something from you.
Choose the right network for your goals
There are several high-traffic social media networks today. Just because everyone else is focusing on building a Facebook Page doesn't mean that it's the best outlet for achieving your business goals. Take a look at the strengths and weaknesses of each network and decide which one to concentrate your efforts on. It's quite possible that your target market isn't even on Facebook. If they aren't there, then why would you be marketing your business there?
Use social media management tools for tracking the results from each social network. If you have the stats in front of you then you will be able to make an informed decision on which is giving you the best bang for your buck. Don't forget to keep track of the time you are spending on each network along with your tracking efforts.
Create a blueprint of your social media strategy
 A successful social media strategy campaign requires a clear outline that details every step along the way.
What are the exact steps that need to be implemented?
What content will you need?
What programs will you be using to schedule and track?
How much time will be spent?
Create your timeline and share the blueprint with everyone that is involved in your social media campaign. You could even send your goals to your Virtual Assistant and have them create a blueprint for you.
Social media may have started out as a fun way to share and interact with friends, but today it is a powerful marketing tool and should be treated as such. Social media can be confusing for some and is quite different than traditional marketing used in the past. But if you have a strategy in place social media can successfully promote your business with ease.
Recommended Tools for Social Media Marketing
I created this social media planner to use for my business and for my clients. I highly recommend getting a copy of it for your business or to give your VA. Use coupon code BLOG30 to get 30% off the planner for a limited time only.
This is my favourite program to use to schedule in social media posts. You can join with a free account or a paid one. I recommend the paid one as you can add team members, manage up to 100 social media accounts and measure your social media campaigns. But if you are just starting out then the free version might work for you.
Questions? Ask in the comments below. 🙂
Written by: Danielle, Owner of ProactiveVA