One of the best parts about working online is that we can work from anywhere as long as we have a decent internet connection. There are several tools that online business owners can use to make their lives easier. I'm going to talk about a few of my favourites that I use frequently.
I'd love to hear what programs you use to manage your online business. Share them in the comments below.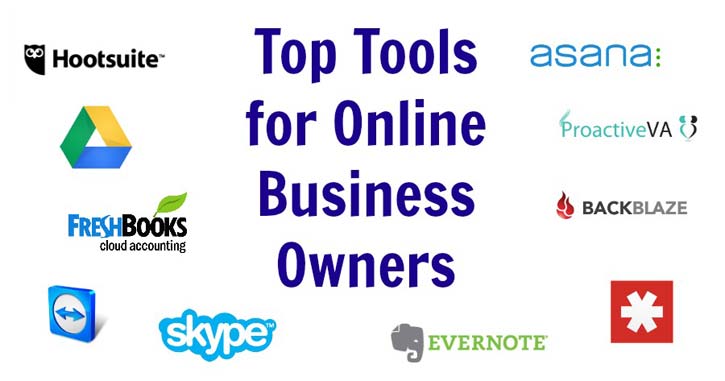 Asana (Project Management System)
When you are working with a team or even by yourself it's essential to have some sort of project management system. Asana is a good example and there are tons of other options available to business owners. It all depends on your needs and what works best for you. Asana offers a decent free version so that is why many opt for it over something like TeamworkPM. Asana will keep businesses organized by having everything in one place. You can manage and create tasks with due dates for each member. You are able to upload files, integrate it with Dropbox and Google Drive. That is only some of the features available to you. Make sure you are using some sort of project management system to keep yourself and your team on track. It will save a lot of time and frustration.
DropBox
Dropbox is probably the program I use the most. I use it to transfer files between my own computers and to my clients. I find it an essential tool for my day-to-day business operations. It is especially handy when I'm on the go cause I can just pop files into it that I will need when I'm on the road. It's a free program and you can upgrade to the paid version if you require more space. Most people can get by with the free account.
Google Drive
I use Google Drive mostly to share live Microsoft documents such as excel spreadsheets. It's handy because everyone can edit the same document at the same time and it won't be overwritten. This is especially useful when managing live events. You can also use it to store files similar to Dropbox but I don't use that feature. 
Skype
Skype is a great tool that can be used to make free calls to others. The other person also requires a Skype account unless you get a paid option. I use a paid option and currently pay $2.99 a month to make unlimited calls to the US and Canada. This is a great option for me because I'm constantly traveling and don't want to use my cell phone when I'm out of the country.
Evernote
Evernote is a great program to use and I recently started using it again regularly. It's basically a virtual workspace and is a great way to keep track of all your ideas and notes. I use it to jot down ideas and projects. You can even share your notes with others so they can see and edit them. Evernote offers both a free and paid version.
BackBlaze
This isn't really a productivity type tool but has been a lifesaver for me already. BackBlaze is a program that backs up your computer into the cloud onto their secure servers. All you do is download the program and install it onto your computer and it starts backing it up. If you create new files on your computer it will back them up automatically for you. My Macbook Pro's hard drive failed last fall while traveling and I panicked. Luckily I was using BackBlaze and all my files were saved. I ordered a new hard drive with express shipping, installed it and was up and running again in no time. I highly recommend BackBlaze, they have a free trial and after that it is only $5 a month per computer. I have it installed on all my computers.
LastPass
There are so many services that we use online today and they typically all require passwords. It's hard to remember all our passwords especially when we make them more secure with symbols, uppercase, lowercase and numbers. LastPass is a great program to use to keep track of passwords. The program stores all your passwords in the cloud. That might make some people feel uneasy, but I've never had an issue plus just about everything is in the cloud. You can download their toolbar and it will auto fill in your passwords for you once you sign in to the toolbar. Since you have to log in to the toolbar every time you open your browser it works great for shared computers. However, you can set it to not log out if you wish. I have it set to log me out if I'm not active for an hour. There are tons of other options for password programs but I've been using this one for years. They offer both a paid and free version, the free version would probably work fine for most people.
Freshbooks
We all need to keep track of our income and expenses and Freshbooks is a great tool for that. If you have less than 3 clients/customers then you can use their system for free. But if you have a larger business then you will have to upgrade to a paid account. Freshbooks allows you to invoice your clients right from their program. Clients/customers can easily pay and view their the invoices through Freshbooks. You can use the system to track the time you've spent on projects and manage your expenses and much more. It  allows you to manage all of your accounting in the cloud. I am currently testing out a new accounting program called Wave, so I will let you know which one I like better. 🙂
Hootsuite
We probably all have quite a few social media channels we have to look after. I have more than 10 for myself and it can be hard to keep up. That's why I like to use Hootsuite for both myself and my clients. It allows me to schedule in posts to my social networks so I can plan ahead. It also allows me to generate reports to see what is and is not working. You can sign up for Hootsuite for free and manage up to 5 networks. If you want to do more you can get a paid account.
TeamViewer
As a virtual business owner, I travel quite a bit. It's one of the benefits of working virtually. Sometimes I need files on my home computer so I use TeamViewer to log into my home computer remotely to grab those files. Then I pop the files into Dropbox and then a few seconds later I can grab them on my Macbook Pro. I also use TeamViewer to log in to clients computers in order to help with certain things. Occasionally I will use join.me to quickly log into clients computers. But I do prefer TeamViewer over join.me.
What programs do you use frequently to run your online business?