We Have Three Questions for You…
Are you a busy executive or overwhelmed business owner wishing you had more time and energy to focus on your growing business, doing what you do best?
Does your to-do list get longer and longer every day putting you behind further?
At the end of the day are you tired, exhausted and overworked?
If you answered yes to any of these questions then you have come to the right place!
Contact us today to learn how we can help you.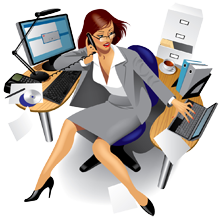 We Take Care of Business!
ProactiveVA provides online support services for businesses and entrepreneurs.  We have the skills needed to help you get your tasks done so you can spend time concentrating on the work that generates your business income.
What is a Virtual Assistant?
A Virtual Assistant (VA) is a highly-skilled, independent professional who remotely provides administrative, technical, and/or creative business support services.
- source VAnetworking.com
Free Guide to Email Marketing Success!
Email Marketing Campaigns
ProactiveVA can create branded email newsletters for your business. No list? We can create optin forms so you can start building a list and sending email campaigns
WordPress Services
We can build you a blog from scratch or help maintain your current WordPress site.
Social Media Services
We can teach you and provide the assistance so you can get the most out of your social media.
Virtual Event Support
Hosting a virtual event? We have the experience needed to launch and host virtual events.  We can guide you through the process and be there during the event.
I highly recommend Danielle as a Virtual Assistant to help any business get ahead and see success. She is truly your right arm when it comes to helping you with administrative, social media and internet marketing projects. She has a knack for turning a situation that looks like a problem into a well strategized solution. 
Tawnya Sutherland
Danielle got me out of a tough situation with another service provider and ran with it!! I think our relationship is excellent and I would recommend you work with her if you have the opportunity. She is smart, resourceful and very creative. It is my good fortune to have found her and I am delighted to work with her on a weekly basis.
Natalie Manor